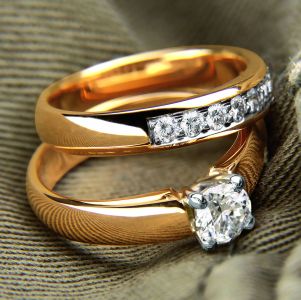 To keep your diamond jewellery as beautiful as possible it must be cleaned regularly. All gemstones – especially diamonds – loose a great amount of their shine if they are dirty or greasy. Stubborn dirt in jewellery, for example on the inside of the ring or behind an earring can cause skin irritation and even inflammation. The material itself – diamonds, other gemstones, gold, white gold and platinum – don't turn dark or weaken even if you don't clean them. Old and dirty jewellery can in most occasions be restored to its original glory by letting it be cleaned by a skilled jeweller. But if you take care of your jewellery according to the following instructions it will stay beautiful and brilliant for years even without the help of a professional.
Rings and earrings
Most exposed to dirt and erosion are the rings. We handle food, cosmetics and other substances daily and this may result in dirt starting to cluster on the inside or surface of the ring or under the fitting of the stone. Rings should therefore be cleaned weekly. We do recommend you to take the rings off before going to bed and when gardening, cooking, cleaning or performing other house-hold chores. Earrings are also exposed to various kinds of chemicals such as hair care products, but also to skin's own excretion. Therefore earrings do get dirty quite easily. We recommend the earrings to be cleaned weekly and to be taken off before going to bed.
For the weekly cleaning of rings and earrings a good instrument is an old (soft) toothbrush and regular washing-up liquid. Make a mild solution of warm water and washing-up liquid in an small bowl and let the jewellery soak in the bowl for a little while. Then brush the items carefully with the toothbrush. Remember the insides, curves and cavities of the ornaments, settings of the stones and other areas that might gather dirt. Rinse under running water and dry with paper towel or soft cloth. Jewellers also sell cleaning solutions specifically designed for cleaning precious metals. Competent staff will be able to tell you more about these products.
In addition to the weekly cleaning it is advisable to take valuable diamond jewellery to a jewellers for "maintenance" once a year or every two years. Especially in rings the stone may loosen over time. Normal wear erodes and scratches the gold and some persistent dirt may stay in the difficult places in spite of regular care. A skilled jeweller will check the settings of the stones and if needed will tighten them, clean the item with professional instruments and cleaning solutions. If requested he can also polish the scratches off the surface.
Pendants, necklaces, broaches and bracelets
These pieces of jewellery don't normally get dirty as easily as rings and earrings even when worn daily, however they also should be cleaned regularly. We recommend you to clean your necklaces, bracelets and pendants monthly and broaches and other jewellery worn attached to clothing once in six months. Use the same cleaning method as was described for the weekly cleaning of rings and earrings.
Storing your jewellery
When not wearing your jewellery the best place to store them is the original box which came together with your jewellery, or a proper jewellery box where the items are safe from scratching and dirtying and where they can easily be found and taken into use. Jewellery is made to be worn, so our wish is that your jewellery spends as little time in the box as possible.
© Karl Sandberg Ky